By Patrick Oppmann, CNN updated 7:16 AM EDT, Wed July 25, 2012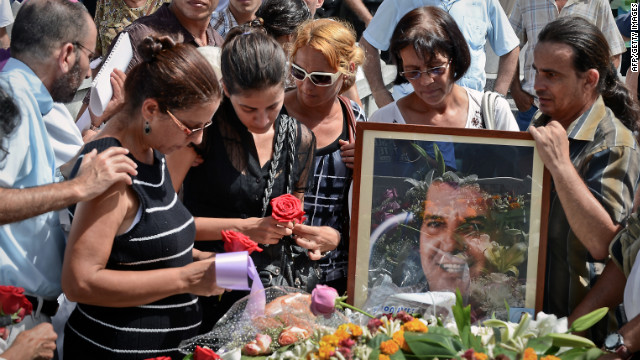 Ofelia Acevedo (left), widow of Oswaldo Paya, and their daughter, Rosa Maria,
attend his funeral on Tuesday in Havana.
STORY HIGHLIGHTS Oswaldo Payá Sardiñas died in Sunday car crash Dozens of anti-government activists arrested on their way to Payá's funeral Cuban police said they are investigating the circumstances of Paya's death Havana, Cuba (CNN) -- Friends, family members and fellow dissidents on Tuesday buried Oswaldo Payá Sardiñas, a prominent critic of Cuba's socialist government. Dissident organizations reported that dozens of anti-government activists were arrested as they made their way to Paya's funeral. Video showed police pushing several dissidents into buses. The Cuban government Tuesday did not immediately respond to CNN's inquiries regarding the arrests. Payá, 60, and another dissident Harold Cepero Escalante died Sunday after the car they were traveling in crashed near La Gavina, Cuba. Two other men in the car, Spanish politician Angel Carromero and Swedish politician Aron Modig, survived and were released from the hospital on Monday. Carromero was behind the wheel when the rental car crashed said Francisco de Borja Morate Martín, a counselor in the Spanish Embassy in Havana. "He is very shaken psychologically," he said. The diplomat said that on Tuesday Carromero was, for a second day, speaking to Cuban police and was being assisted by Spain's consul to Cuba. Carromero's testimony could be key to determining how Payá, one of Cuba's best known dissidents, died. On Sunday, family members told CNN that the car he was had been run off the road by another, apparently on purpose. Details of deadly crash disputed But a statement released by the Cuban government on Sunday said witnesses to the crash reported the car had lost control on its own and crashed into a tree. Oswaldo Payá was a long standing thorn in the side of Cuba's government, which considers dissidents to be paid mercenaries who have betrayed their own country. In 2003, Payá received the European Parliament's Sakharov prize for freedom of expression. The award is named for Soviet dissident Andrei Sakharov and is awarded to those who work to promote human rights and democracy. The Varela Project, a signature drive led by Payá, delivered thousands of signed petitions asking for changes to Cuba's political system. The initiative was largely ignored by Cuba's leaders, but former President Jimmy Carter highlighted Payá's work during his trip to Cuba, the first made by a former U.S. president to Cuba since the 1959 revolution. Amid the questions that swirl around Payá's death, some of his fellow dissidents called for an end to the conspiracy theories and for a transparent investigation into how he died. "He tried to carry out reform in a nonviolent way," said fellow dissident Elizardo Sanchez. "It turns out that he died in a violent way; an absurd and strange accident." According to a government statement, Cuban police are investigating the circumstances of Paya's death.